do you need help with a new heater, furnace or boiler installation or repair in Bloomsburg, PA?
The experts at Positive Air are here to assist in any way we can. Whether you have a question about repairing your furnace or boiler or want to schedule an installation of a new heater, we would love to assist you. Give us a call at
570-852-5469
or fill out the form below and one of our heating specialists will contact you right away.
reliable heating repair in Bloomsburg
Don't wait until your home is getting cold to call a heating repair service. As soon as your heater stops working, call Positive Air and ask for one of our service technicians. We offer emergency heating services and will send a technician out as soon as possible. At Positive Air, we are committed to getting the job done right the first time. This means we focus on the root cause of the repairs, not just the symptoms. By figuring out what's wrong and focusing on these problems, we can increase the chances that your system won't break again once we leave. This is the high-quality repair you should look for in a heating contractor.
heating installation services
If your heating system is beyond repair or has aged to the point where it doesn't make sense to repair it, our service technicians will begin the process of installing a new one. They will walk you through the basic steps and answer any questions you have about the cost, timeframe and labor involved. Once you are ready to replace your system, we will conduct a load test to find the right heater for your home. We can identify the top brands to choose from and help you find rebates so you can save money. We offer a five-year labor warranty with your heating installation – no excuses.
Beckett Burner

Coal Furnace

Combination Boiler

Condensing Furnace

Electric Boiler
Gas Boiler

Gas Furnace

Heat Pump

Oil Boiler

Steam Boiler
routine heating maintenance
On top of heating repair and installation, Positive Air is here for you even when your heater is working at its best. We offer seasonal maintenance services to inspect, calibrate and clean your system.
Call us
at the beginning of Fall and set up a time for us to extend the life of your heater.
PROGRAMMABLE / WIFI THERMOSTAT
Winter in Pennsylvania is the time of year when it helps to control your HVAC system. Installing a smart thermostat can help you stay warm, without the expensive utility bill. When the winters cold sets in, you want to be able to control your thermostat. Don't run your heater all day racking up expensive energy costs while everyone is at work and school, heat your home only while you're there. Installing a smart thermostat (also known as a WiFi thermostat) can help! You'll be able to adjust the temperature inside your home from your smart phone.
Help Save on Energy Costs
Perhaps the biggest reason to upgrade to a WiFi thermostat is to lower your energy consumption to help with your energy costs. With a smart thermostat, it's easy to schedule your HVAC system to run less while you're out for the day, so you're only heating or cooling your home while you're in it. Program your digital thermostat to kick on before coming home so that your home is the perfect temperature the moment you walk in the door.
Track Your Energy Usage
Most digital thermostats allow users to track their energy usage. You can build a home energy profile that tells you how your energy usage has changed over time, how that's likely to affect your energy costs in the future, and how you can adjust your heating and cooling preferences to decrease energy costs even more.
Control Your Thermostat While You're Away
Another benefit of a WiFi thermostat is that it allows you to control the temperature in your home remotely. Coming home early and want your home at a comfortable temperature before you arrive? Just log into your thermostat app and adjust your temp before getting home.
You can stay comfortable year round without spending a ton on heating and cooling costs. Install a smart thermostat and take control over your home's temperature.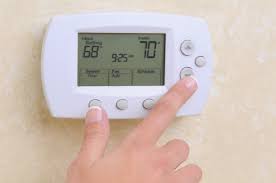 Gas Boiler - Oil Boiler - Electric Boiler - Combination Boiler - Coal Furnace - Gas Furnace - Heat Pump - Steam Boiler - Condensing Furnace - Beckett Burner - Heating - Emergency Heating